To make a difference in the lives of our patients and families by working hand in hand throughout their journey.
Hospice philosophy and service depend upon both professional and volunteer services to fulfill organizational, patient, caregiver and family member needs. Whether it's providing companionship to a patient in their final months and weeks of life, offering support to family members and caregivers, or helping with administrative work in one of our local hospice programs, the contributions of Volunteers are essential to the important work we provide at Kindred Hospice. By utilizing the time and talents of Volunteers, we can offer a wider range of services and meet a variety of special needs and interests. This is in an effort to improve quality of life and enhance care services to our patients, families and caregivers.
Responses will be made from the Manager Volunteer Services email, currently Michael Holland at michael.holland@gentiva.com.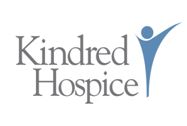 People with Health-based Concerns