Children & Youth Education
Age Minimum (with Adult): 18+, Minimum Age:18+
Help Change Lives! Tutor/Mentor AmeriCorps Member Opportunity - Clarksville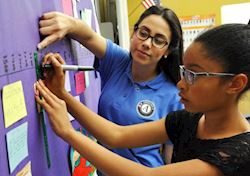 Ready to change lives? Your year of service awaits with the Community Service, Inc. Tutoring and Mentoring program.
Members will serve youth in grades 3-12 struggling with reading, math, writing and/or English through tutoring and mentoring services.
Essential Functions of Position:
· Members will provide tutoring services in English, writing, reading or math for students each week.
· Members will provide at least one mentoring activity each week with students.
· Members will conduct orientation sessions with new students and their parents in the program after receiving admission paperwork.
· Members will aid in recruitment of students and other members to the program.
· Members serve as volunteer coordinators helping with recruitment and having monthly contact with volunteers in addition to conducting volunteer orientation
· Members will serve in group service projects on national service days including Dr. Martin Luther King, Jr. Day and AmeriCorps service week. These projects will be directed by the program director with input from members and the Arkansas Service Commission. Members will also serve in additional service projects as approved by the program director.
· Members will conduct virtual tutoring and mentoring sessions as needed.
· Members will enter data into the database including students, grades, Ohio Scales surveys and tutoring session dates.
· When called upon, members may be asked to support disaster response and/or recovery efforts as needed by the State of Arkansas.
· Members may be asked to help sanitize equipment and/or meeting spaces. In addition, members may be asked to assist students and parents with using virtual learning equipment and educational packets.
AmeriCorps Program Benefits:
· Living allowance awarded biweekly of between $192.86 and $571.42 (First Living allowance awarded Oct. 23, 2020)
· Education Award amount of up to $1,638.89 -$4,336.50 (Awarded after service completion)
· Student loan forbearance while in service.
· Travel reimbursement for approved travel at .41 cents per mile.
· For members age 55 and over the ability to pass education award to child, grandchild or foster child.
· Valuable training and experience serving youth.
· The honor of being an AmeriCorps Alumni.
"This program is available to all, without regard to race, color, national origin, gender, age, religion, sexual orientation, disability, gender identity or expression, political affiliation, marital or parental status, genetic information and military service"
Please wait...
Log in or Register
In order to register for this opportunity you must log in to an existing account or register to create a new account.
Signup with team
This link allows you to participate in this opportunity with a team. When you click on the link you will have the option to:
Choose an existing team you're already a member or captain of, or
Create a new team to sign up.
Signup Questions
Please respond to the following questions in order to signup for this opportunity:
Please wait...
E-mail