Children & Youth Education
Age Minimum (with Adult): 18+, Minimum Age:18+
Serve with the Pride at UAFS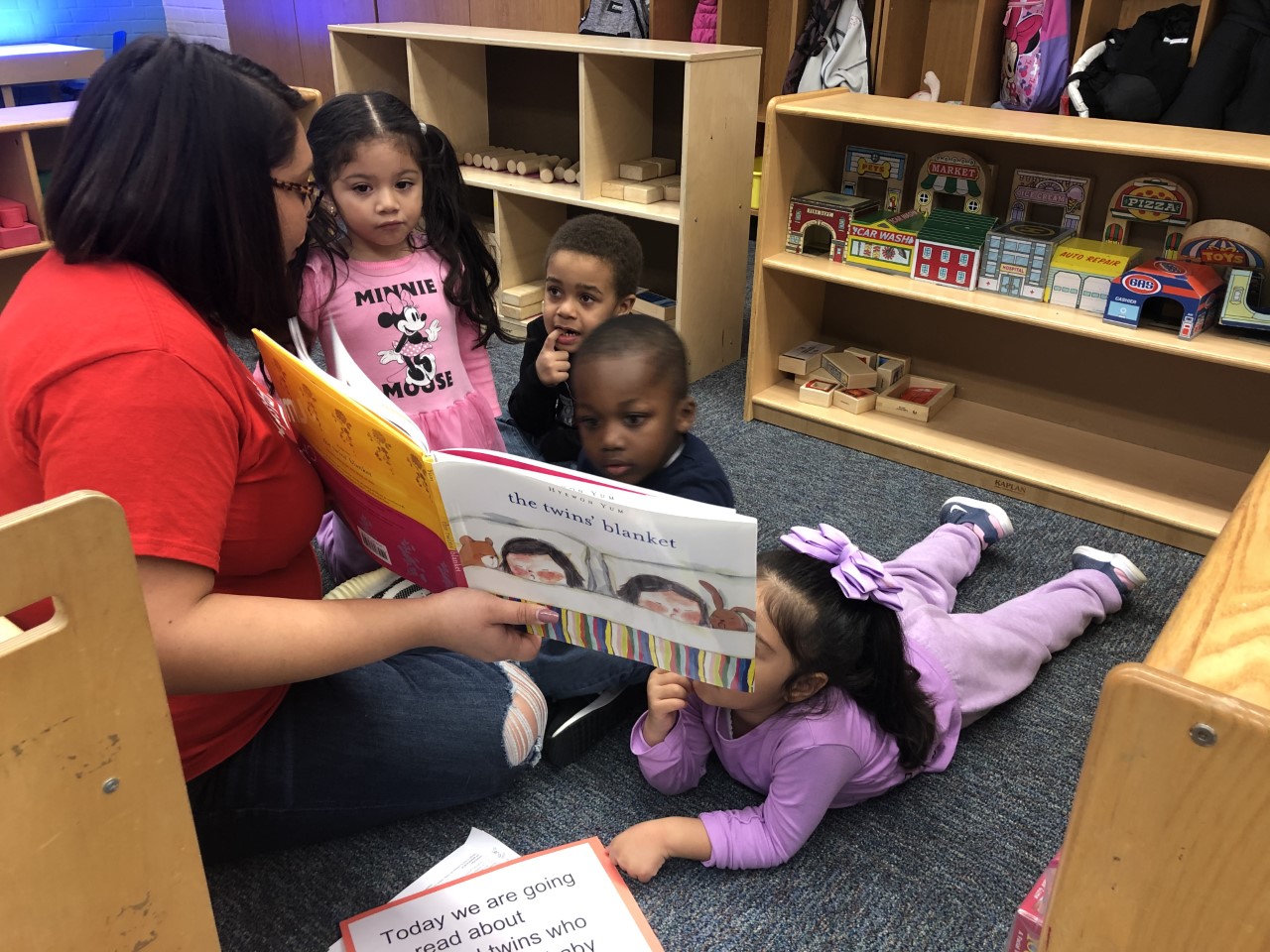 About Jumpstart:
Jumpstart is a national early education organization working toward the day every child in America enters kindergarten prepared to succeed. We provide language, literacy, and social-emotional programming for preschool children from under-resourced communities and promote quality early learning for all children. Join us to work toward the day every child in America enters kindergarten prepared to succeed. Learn more at www.jstart.org. Jumpstart Arkansas is an Engage AR AmeriCorps national service program.
Service Position Title and Type: Jumpstart Arkansas AmeriCorps Member. Minimum time 300 hours.
Name and Address of Program: Jumpstart Arkansas 5610 Grand Avenue, Fort Smith, AR 72903
Service Location: Fort Smith Public Schools 3205 Jenny Lind Road Fort Smith, AR 72901 or virtually as needed due to COVID-19
Site Supervisor/Title: Sarah Biggs, Supervisor Early Childhood Education, 479-785-2501.
Purpose: To provide language, literacy, and social-emotional programming for preschool children from under-resourced communities and promote quality early learning
Service Position Summary:
In teams of 5-7, Jumpstart Arkansas AmeriCorps members will conduct two-hour sessions which include welcoming pre-school children, leading small group work such as shared reading experiences and vocabulary development, providing large group meetings to develop content knowledge, and offering support for oral language and social-emotional development during center time. Teams will serve approximately 80 children with a goal of gains in language and literacy development as demonstrated by increased knowledge and observable changes in the behavior of preschoolers. Jumpstart Arkansas Corps members will reduce the adult to child ratio from 2:20 to 1:3 giving children the opportunity to experience individualized learning opportunities from caring adults. (Service may be face-to-face, virtual, or hybrid based on the needs that arise due to the pandemic. The number of members per team, children served goal, and ratios may require adjustments due to the COVID 19 pandemic.)
Essential Functions of Position:
Overall
Able to verbally communicate with peers, Jumpstart staff, children, children's families, and classroom teachers.

Able to arrange their own transportation to and from service site in a timely and reliable fashion and able to transport materials needed for sessions

Able to interact with preschool-age children at their level in a classroom setting with high activity and noise levels and other varying environmental conditions. Interaction includes being able to move around the classroom to participate in various activities with the children.

Able to participate fully in Jumpstart programming with preschool-age children – two times per week for two hours each, totaling four hours a week. This classroom time includes a variety of activities in a consistent routine that includes reading, small and large group activities, and facilitating centers.

Able to participate fully in 2-7 hours each week in additional individual classroom service, implementing individualized activities with children, and supporting teacher-led activities. This participation involves working with preschool-age children and other adults in a preschool classroom.

Able to see both print and illustrations in order to read children's books.

Able to hear children and adults in order to participate in back and forth conversations.

Able to demonstrate effective reading skills in English in order to implement the Jumpstart program. Includes reading children's books, song charts, and materials in the classroom.

Able to demonstrate effective writing skills in English in order to implement the Jumpstart program. Includes writing children's names and demonstrating how to write words and letters for children.
Outside the classroom
Able to participate fully in 30+ hours of pre-service and 10+ hours of on-going in-service trainings, broken down in 1/2-8 hour increments/ exact increments will vary. Trainings are delivered in a variety of formats including web-based trainings, group in-person trainings, PowerPoint presentations, small group discussions, and role-plays.

Able to participate fully in 1 hour team planning meetings and classroom activity preparation 2 times per week, which includes planning, reflection, and/or training, for a total of 2 hours per week, working with other members in a small group to reflect on and plan for weekly classroom activities.

Able to demonstrate effective reading skills in English in order to participate in the Jumpstart program. Includes reading lesson plans and training manuals.

Able to demonstrate effective writing skills in English in order to participate in the Jumpstart program. Includes writing reflections and written responses to questions in training.

Participate in additional service projects as approved by the program director.

AmeriCorps members may not participate in prohibited activities.
Marginal Functions of Position:
When called upon, members may be asked to support disaster response and/or recovery efforts as needed by the State of Arkansas.

COVID-19 Response Activities.

Members may assist with classroom/equipment sanitization, student health entry screening, or provide virtual support to students learning from home. If the pandemic causes the need for additional teleservice or alternative service, we will follow the guidelines in the teleservice and alternative service policies. Tele-service and/or alternative service hours may include, but will not be limited to:

Daily journaling/reflections

Virtual team planning sessions

Individual planning

Video creation and editing

Creation of parent involvement packets

Community service at a local organization such as non-profits that assist low-income families, children, and other vulnerable populations when safe to do so

Any other service activity with prior approval of the Jumpstart Coordinator

Member must maintain documentation of the organization's name; address; phone number; hours served; activity; signature and contact information of program supervisor.
Access to Vulnerable Populations: The Arkansas Service Commission has determined that the probability of access to vulnerable populations is so great that all members will undergo and pass all required criminal history checks: NSOPW, FBI, and Arkansas State Police, as well as other states, as necessary.
Knowledge, Skills, and Abilities Required:
Dedication to early childhood education
Experience working with young children, and/or a desire to learn more about early childhood education

Strong language and communication skills

Ability to communicate and collaborate with children's families

Willingness to learn about Jumpstart program implementation and planning

Willingness to implement Jumpstart's research-based curriculum with integrity
Commitment to service
Community service experience and/ or a desire to serve in the community

Ability to work with people from diverse backgrounds

Ability to fulfill a yearlong community service commitment

Enthusiastic and positive attitude toward helping others
Professionalism
Ability to work well on a team to collaborate, communicate, and problem solve

Desire to seek opportunities for self and team growth

Willingness to receive and provide feedback in an effort to improve the quality of one's service in the program

Availability, dependability, and willingness to be flexible in different contexts, such as in training, scheduling, in the classroom, with unexpected changes

Professionalism and good judgment in relating to Jumpstart peers, children, partners, and families
Academic and Experience Qualifications: Members providing Jumpstart Arkansas activities must be enrolled in an institute of higher learning or be a community member willing to participate in all activities. All members must have a high school diploma.
Service Conditions: Service is performed in a local pre-school setting or virtually as needed due to COVID-19
Commitment Required: Program begins September 11, 2020 and continues through May 28, 2021. Members serve 300 hours generally serving 10-15 hours per week.
Orientation and Training:
Orientation (prohibited activities, CNCS and program policies, member position descriptions, reporting member hours in OnCorps, performance measure data, timesheets)

Disaster training (provided by Engage AR)

Early literacy skills training

Social-emotional strategies training

Equity and inclusion training
AmeriCorps Program Benefits:
Segal AmeriCorps Education Award up to $1,311.11 after successful completion of the service term

Living allowance of $800 over 8 month period while actively serving

Student loan forbearance

Professional training in early education

Team building skills development

Professional skills development
Evaluation and Reporting:
Weekly time sheets

Monthly observations/evaluations of Jumpstart Arkansas AmeriCorps members by Jumpstart Coordinator

End-of-term evaluations
Please wait...
Log in or Register
In order to register for this opportunity you must log in to an existing account or register to create a new account.
Signup with team
This link allows you to participate in this opportunity with a team. When you click on the link you will have the option to:
Choose an existing team you're already a member or captain of, or
Create a new team to sign up.
Signup Questions
Please respond to the following questions in order to signup for this opportunity:
Please wait...
E-mail