AmeriCorps Funding Opportunities
The mission of AmeriCorps is to improve lives, strengthen communities, and foster civic participation through service and volunteering. Through AmeriCorps, Senior Corps, and the Volunteer Generation Fund, AmeriCorps has helped to engage millions of citizens in meeting community and national challenges through service and volunteer action. Several different types of AmeriCorps program funding are available from CNCS but the requirements, processes, and allowable service activities are different for each program.
Click the links below to learn more about each AmeriCorps funding opportunity. If you need help determining which program is right for your organization, learn more about Key Differences in AmeriCorps Programs, view a Comparison of AmeriCorps Programs, or contact Engage.AR@adhe.edu
Apply for Engage AR AmeriCorps Funding Apply for AmeriCorps Seniors Funding Apply for NCCC Team Apply For VISTA Funding Decision Tree 2021-2022
---
AmeriCorps and CDC Launch Public Health AmeriCorps
AmeriCorps, the federal agency for volunteering and national service, has launched Public Health AmeriCorps, a new partnership with the Centers for Disease Control and Prevention to support the recruitment, training, and development of a new generation of public health leaders who will be ready to respond to the nation's public health needs.
Public Health AmeriCorps goals include:
Help meet public health needs of local communities by providing needed capacity and support in state and local public health settings and advancing more equitable health outcomes for communities who are currently or historically underserved.

Provide pathways to good quality public health-related careers by providing exposure through onsite experience, training, and more, with a focus on recruiting AmeriCorps members who reflect the communities in which they will serve.
The deadline for applications to the 2022 AmeriCorps State and National Public Health AmeriCorps Notice of Funding Opportunity is Monday, November 8, 2021 at 4:00 p.m. Please contact AmeriCorpsGrants@cns.gov for additional guidance.
The competition is open to nonprofit, faith-based and community-based organizations; higher-education institutions; state, local and territorial government entities, such as cities or counties; and Indian Tribes. New organizations are encouraged to apply for these grants.
§See press release here: here.
§See application materials: here.
National Public Health AmeriCorps Application Technical Assistance Available
AmeriCorps is hosting technical assistance webinars for Public Health AmeriCorps applicants to answer questions about the funding opportunity and eGrants. AmeriCorps strongly encourages all applicants participate in these sessions. Registration links are found: here under "Technical Assistance Webinars"
---
EngageAR AmeriCorps Funding Opportunities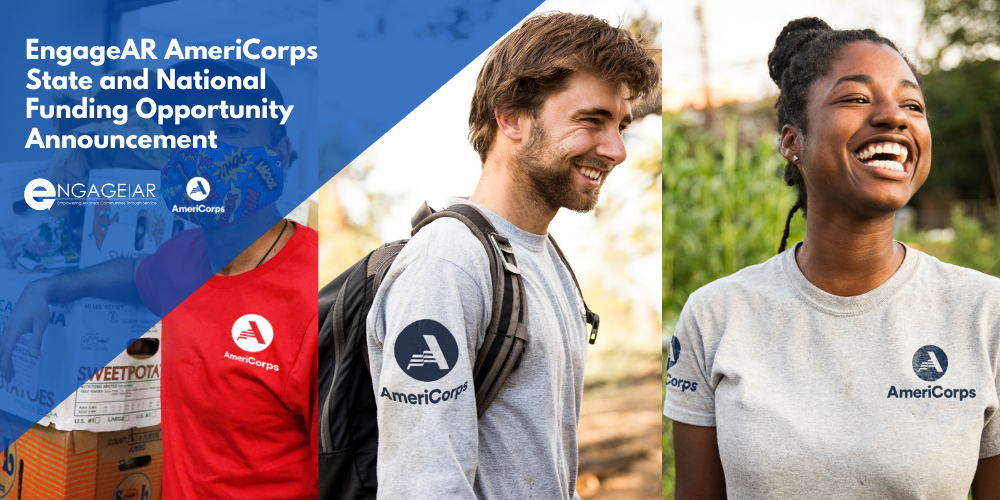 Click Here for AmeriCorps Grant Press Release
AmeriCorps Arkansas grants are available through EngageAR to Arkansas nonprofits, higher education institutions, local and state governments, and tribal agencies proposing to engage AmeriCorps members in evidence-based or evidence-informed interventions/practices to strengthen communities. An AmeriCorps member is an individual who engages in community service through an approved national service position. Members may receive a living allowance and other benefits while serving. Upon successful completion of their service, members earn a Segal AmeriCorps Education Award from the National Service Trust that members can use to pay for higher education expenses or apply to qualified student loans. Successful AmeriCorps Arkansas program applicants can engage at least 4 full-time or 8 half-time AmeriCorps Members in an intervention, program, or service that meets critical community needs in the areas of education, disaster services, health, environmental stewardship, economic opportunity, and veterans and military families.
Please submit all AmeriCorps Arkansas funding questions and documents to EngageAR - Engage.AR@adhe.edu
---
EngageAR 2022 – 2023 Notice of Funding Opportunity
Concept Paper

Start here if you have never received funding from EngageAR for an AmeriCorps Program. Concept papers are a required preliminary application step. Programs may not apply for AmeriCorps funds without the submission of the concept paper package or the expressed written permission of the EngageAR Director.

AmeriCorps Funding Training, Technical Assistance, and Supplemental Resources

View Past training here and register for future AmeriCorps training and technical assistance training.

Planning Grant

Planning grants provide organizations financial support to explore and expand their capacity to manage an AmeriCorps program. Grant recipients are awarded up to $75,000 for up to a 12-month planning period to start no earlier than August 1 and are expected to be better prepared to compete for an AmeriCorps program grant in the following grant cycle.

Operational Grant

Selected organizations will receive grants to manage AmeriCorps programs to engage AmeriCorps members in service to meet critical needs in Arkansas.
Supplemental Resources:
Arkansas State Service Plan 2020-2023
---
Grant Announcements

Click Here for AmeriCorps Grant Press Release
---
AmeriCorps NCCC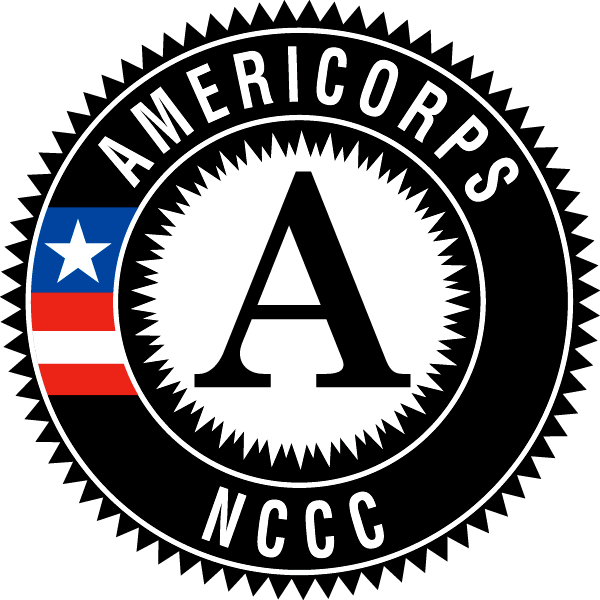 AmeriCorps NCCC Southwest Region team Water 5 helped with farm infrastructure and nutrition programming during this 12-week project.
- Class 25 Round 3
---
AmeriCorps VISTA Funding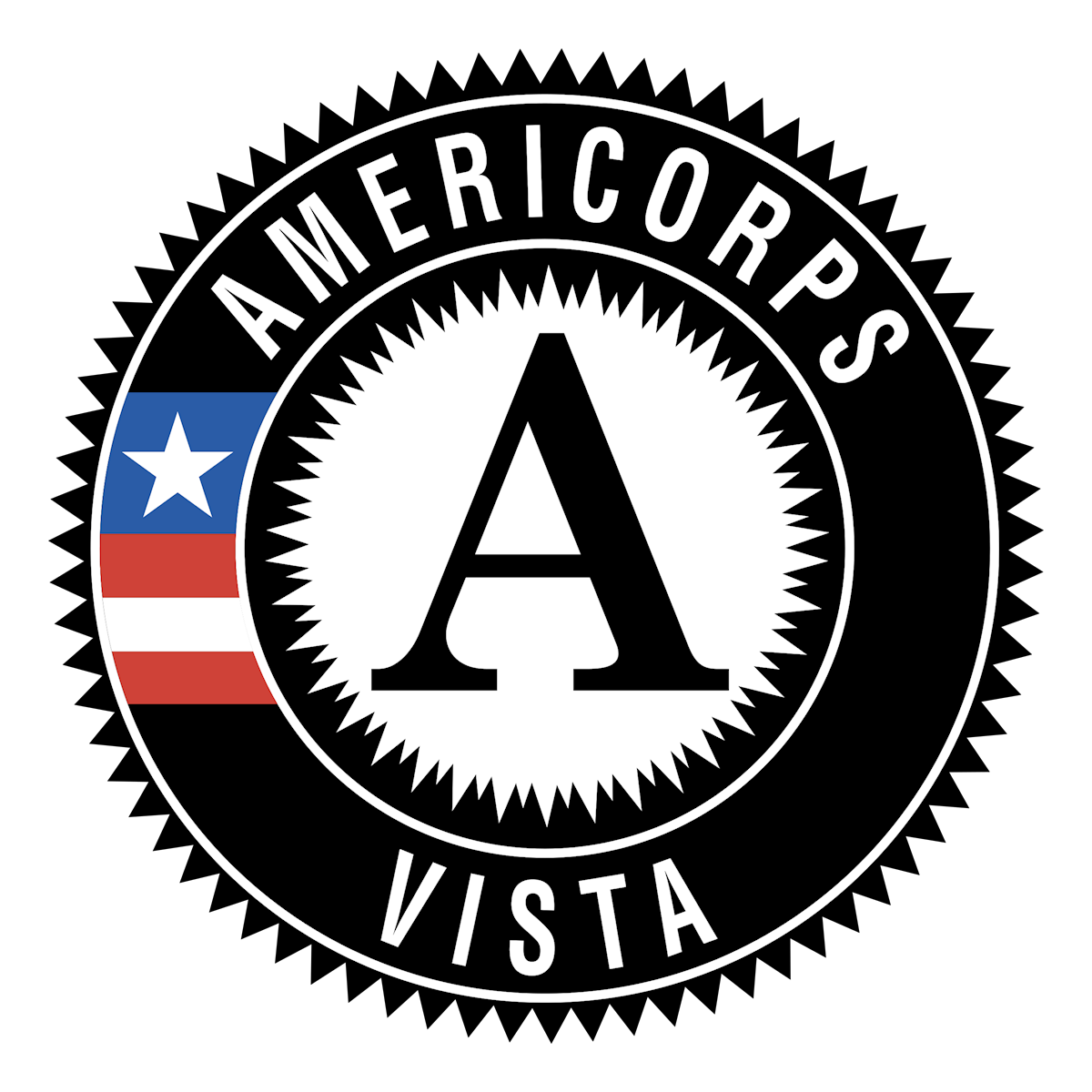 AmeriCorps VISTA Request for Concept Papers
AmeriCorps VISTA FY2021 Request for Concept Papers Timeline
AmeriCorps VISTA Program Guidance
AmeriCorps VISTA (Volunteers In Service To America) provides members to support projects at nonprofit, grassroots organizations, and local government agencies that operate programs to help alleviate poverty in the United States. VISTA members strengthen and support these organizations by improving their infrastructure, expanding community partnerships, securing long-term resources, training program participants, and developing other activities that help build long-term sustainability for overcoming poverty.
Public, private, or faith-based nonprofit organizations, as well as local or state agencies, can become an AmeriCorps VISTA sponsoring organization. The application process is conducted at the state level to ensure local community needs are being met. The application process is a two-phase process with con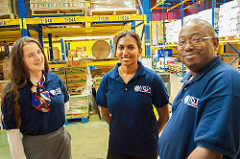 cept paper and full application. Contact the CNCS State Office covering the area in which the proposed project would be located to discuss application timeline, requirements, and procedures.
The CNCS State Office will provide technical assistance during the application process. The length of the application process varies, but the average time from the initial contact to a final decision is 3 to 5 months. Click to learn more about applying for a VISTA Project