EngageAR works to support and promote service days throughout the year, developing partnership projects and toolkits for citizens across the state to make a difference in their communities. This page is updated as plans are developed for each year. If you are interested in partnering or planning a day of service in your community, reach out to Engage.AR@adhe.edu.
Upcoming 2021 Days of Service
---
Juneteenth Day of Service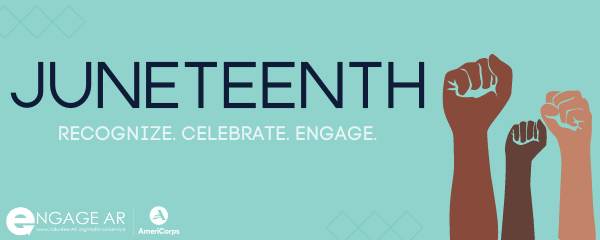 Engaging Communities, Celebrating Black Heritage.
EngageAR is committed to equity today, tomorrow and always. To that end, we are announcing a new civic engagement opportunity. This year we partnered with the Winthrop Rockefeller Institute to provide their Beyond Civility training to our members. These trainings allowed our members to engage in difficult conversations and identify ways they can commit to engaging their community. All EngageAR AmeriCorps programs are required to participate in designated service days. If your members were unable to participate in our community trainings or our overnight summit, the video below can be substituted as service day participation.
Juneteenth Member Training Video
Juneteenth Day Of Action Pledge Sheet
---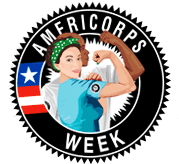 March 7-13, 2021
AmeriCorps Week is a celebration of all things AmeriCorps-from the programs and organizations that make this national service initiative possible in thousands of locations, to the over 1 million members who have pledged to "Get Things Done" since the program's inception in 1994. Each year for AmeriCorps Week, EngageAR offers mini-grants to all national service programs in Arkansas to coordinate volunteer projects and civic engagement outreach events in communities across Arkansas.
Download the 2021 AmeriCorps Week Press Release Template Here
Click Here for 2020 AmeriCorps Week Toolkit
Learn more about National Volunteer Week
---

April 6, 2021
On National Service Recognition Day, thousands of local leaders across the country honor AmeriCorps members and Senior Corps volunteers by issuing official proclamations and taking to social media in a nationwide show of appreciation.
CNCS, America's leader in volunteering and service efforts, engages approximately 300,000 AmeriCorps members and Senior Corps volunteers in national service at more than 50,000 locations each year. Through partnerships with schools, faith-based groups, non-profits, and local agencies, national service members are embedded within the communities they serve, using their ingenuity and training to make a tangible, lasting impact. Whether responding to natural disasters, tackling the opioid epidemic, educating students for the 21st-century workforce, or supporting veterans and military families, AmeriCorps members and Senior Corps volunteers help local leaders strengthen their communities.
Click Here for 2020 National Service Recognition Day Toolkit
Learn more about National Service Recognition Day
---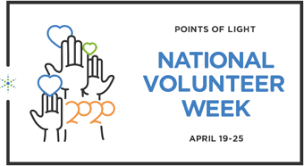 April 18-24, 2021
National Volunteer Week is an opportunity to recognize and thank volunteers who lend their time, talent, voice, and support to the causes they care about in their community. Their stories can serve to inspire others to find ways to take action that creates change. During National Volunteer Week, VolunteerAR promotes and celebrates the impact of volunteer service and the power of changemakers to come together to tackle tough challenges and build stronger, more vibrant communities. EngageAR works with national service programs and Cities fo Service to support and coordinate service day projects during National Volunteer Week.
Learn more about National Volunteer Week
---

Saturday, September 11, 2021
September 11th is Patriot Day and a National Day of Service and Remembrance. On this day Americans across the country are called to volunteer in their local communities in tribute to the individuals lost and injured in the attacks, first responders, and the many who have risen in service to defend freedom. EngageAR, in partnership with the Corporation for National and Community Service, offers support and mini-grants to national service programs and Cities of Service to plan volunteer projects in their communities on 9/11.
Click Here for the 9/11 National Day of Service and of Remembrance Toolkit
Learn more about how you can engage youth in September 11th National Day of Service and Remembrance initiatives.