EngageAR works to support and promote service days throughout the year, developing partnership projects and toolkits for citizens across the state to make a difference in their communities. This page is updated as plans are developed for each year. If you are interested in partnering or planning a day of service in your community, reach out to Engage.AR@adhe.edu.
2022 Days of Service
---

April 17-23, 2022
National Volunteer Week is an opportunity to recognize and thank volunteers who lend their time, talent, voice, and support to the causes they care about in their community. Their stories can serve to inspire others to find ways to take action that creates change. During National Volunteer Week, VolunteerAR promotes and celebrates the impact of volunteer service and the power of changemakers to come together to tackle tough challenges and build stronger, more vibrant communities. EngageAR works with national service programs and Cities fo Service to support and coordinate service day projects during National Volunteer Week.
Learn more about National Volunteer Week
---
Juneteenth Day of Service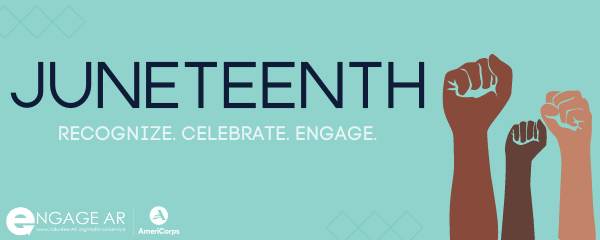 Engaging Communities, Celebrating Black Heritage.
EngageAR is committed to equity today, tomorrow and always. To that end, we are announcing a new civic engagement opportunity. This year we partnered with the Winthrop Rockefeller Institute to provide their Beyond Civility training to our members. These trainings allowed our members to engage in difficult conversations and identify ways they can commit to engaging their community. All EngageAR AmeriCorps programs are required to participate in designated service days. If your members were unable to participate in our community trainings or our overnight summit, the video below can be substituted as service day participation.
Juneteenth Member Training Video
Juneteenth Day Of Action Pledge Sheet
---

Sunday, September 11, 2022
September 11th is Patriot Day and a National Day of Service and Remembrance. On this day Americans across the country are called to volunteer in their local communities in tribute to the individuals lost and injured in the attacks, first responders, and the many who have risen in service to defend freedom. EngageAR, in partnership with the Corporation for National and Community Service, offers support and mini-grants to national service programs and Cities of Service to plan volunteer projects in their communities on 9/11.
Click Here for the 9/11 National Day of Service and of Remembrance Toolkit
Learn more about how you can engage youth in September 11th National Day of Service and Remembrance initiatives.
---
MLK Day of Service

January 17, 2022
The MLK Day of Service held on this federal holiday is dedicated to the Reverend Dr. Martin Luther King, Jr. in honor of his legacy and passion for serving others. "Make it a Day On, Not a Day Off!" and find planned projects in your community you can join. You can also develop your own project with family, friends, and neighbors.